Eyelid Surgery
Conveniently located to serve the Connecticut, New York, and the Tri-State area
WHAT IS EYELID SURGERY (BLEPHAROPLASTY)?
Eyelid surgery is a procedure that removes fat, excess skin, and muscle from the upper and lower eyelids. This procedure can create a youthful appearance by reducing eye wrinkles and fixing drooping eyelids and puffy under eye bags. The surgery repairs and restores the appearance of the skin, muscles and fat around the eye as needed.
Dr. Raskin is recognized as an expert in her field at performing blepharoplasty. She has received training in Ophthalmology at The New York Eye and Ear Infirmary. She is well-known for helping patients with overdone blepharoplasty at our Greenwich practice. She will examine each patient's eyelid area to determine the optimum treatment plan to achieve the most natural-looking and lasting results.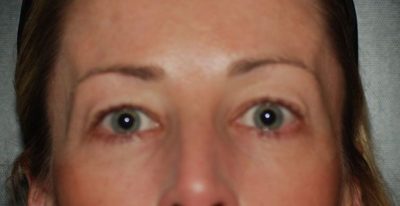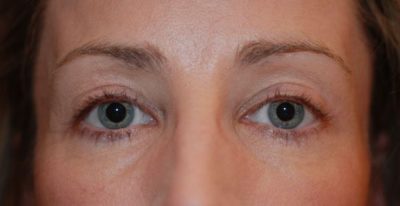 * Individual results may vary.
Photo Gallery
View before-and-after pictures of real patients of Dr. Elsa Raskin
HOW CAN EYELID SURGERY IMPROVE THE VISIBLE SIGNS OF AGING?
By addressing fine lines and wrinkles, dark circles, and under-eye bags that can make you look tired and older, blepharoplasty is a popular cosmetic procedure to repair and enhance the eyelid region. Targeted areas include the upper and lower eyelids, as well as the hollows beneath the eyes and the tear troughs. These cosmetic concerns can be corrected separately or in tandem depending on the patient's desired goal.
Sun exposure, genetics, and the aging process all have an impact on the skin around eyes over time. The muscles and supportive tissues around the eyes start to weaken with age, leading to a droopy appearance, under-eye bags, fat loss and shifting, deep grooves, and dark circles.
In addition, the delicate skin around the eyes loses elasticity and resiliency which contributes to sagging and wrinkling. Cosmetic eyelid surgery helps to restore a youthful appearance to the eyelid area by improving a variety of common issues and concerns,and provides an overall rejuvenating effect that extends to the entire face.
THE PROCEDURE
Eyelid surgery is performed under local or general anesthesia and typically takes about one to two hours to perform. During the procedure, incisions that follow your eyes' natural contours are made around the lower eyelids and upper eye creases are made. If you have crow's feet, incisions may also be placed around the outer corners of your eyes. Excess fat, muscle, and skin is then removed and the incisions are closed.
There are three techniques to rejuvenate eyelids:
Precisely removing excess skin
Expert tightening muscle
Removing, adding or repositioning fat
Regardless of the specific techniques used, the ultimate result is a refreshed, rejuvenated more youthful appearance for natural-looking outcomes that will make people wonder if you just got back from vacation—not if you've had something "done."
UPPER EYELID & UPPER VOLUMETRIC BLEPHAROPLASTY
For this type of procedure, the excess skin of the upper eyelid is removed so that the upper eyelid crease is sharpened and defined to restore a more youthful look. The incision is well hidden in the natural fold of the eyelid. Once healed the incision is undetectable.
IS COSMETIC EYELID SURGERY RIGHT FOR YOU?
The first and most important step is consulting with a reputable and experienced oculoplastic surgeon who performs both surgical and non-invasive procedures to improve the wide array of eye-area concerns.
At the time of your consultation, Dr Raskin will discuss your facial rejuvenation goals and conduct a comprehensive examination of your eyelids to determine the ideal treatment plan for each individual patient. All surgery involves some risks, and we will explain the procedures recommended in detail during the consultation process.
POST-OP AND RECOVERY
You will experience bruising and swelling during the first week after eyelid surgery, and stitches will be removed after about six days. Patients typically feel better about four days after surgery and can return to work in seven to 10 days. Patients may experience dry or itchy eyes and sensitivity to light in the few weeks after surgery. Patients will not be able to wear contacts for two weeks after receiving lower lid blepharoplasty. You will have some scarring, but it will fade to be nearly invisible over time.
What is the Cost of Eyelid Surgery?
Though pricing can vary significantly based on the scope and individual needs of the patient, the typical price range is Upper Eyes $2,000 – $4,000 and Lower eyes $ 3,000 – $4,000.
"TRULY HAS AN EYE FOR PERFECTION AND STRIVES FOR IT WITH EACH PATIENT."
I have known Dr Raskin for several years. I had the pleasure of seeing her about 15 years ago originally and subsequently referred a family member to her for several injectable appointments and a blepharoplasty. She created an amazing outcome and truly has an eye for perfection and strives for it with each patient. I reached out to her for a consultation for myself after many years of contemplation and about 4 surgical consultation with other surgeons in NYC and NJ. I was seen in the office within 1 week of my call and likely could have been seen even soon had my schedule permitted. The office staff was friendly and accommodating. I was greeted by Dr. Raskin with a warm and genuine friendly welcome. She took measurements and offered several options based off of desired results that I provided to her that were photos found online. As a professional in the surgical field, I can confidently say that my experience in the surgical center was extraordinary. I felt tended to as if I were the only patient having surgery that day. The nurses in the pre op and recovery room as well as OR staff and anesthesiologist were amazing. I walked out of the hospital about 2 hours after my surgery feeling great. Now, 2 month out of surgery, I will say that this is one of the best decisions I have made in my adult life and a majority of that statement is owed to the expertise, and artistry of Dr Raskin. I am thrilled with the result, the shape, symmetry and overall care that I have received and would recommend anyone to see her in consultation, she is a true gem. GP, blepharoplasty
RISKS OF EYELID SURGERY
Potential complications following eyelid surgery include infection, negative reaction to anesthesia, blurred vision, asymmetry, scarring, and small whiteheads may appear after stitches are removed. These risks very rarely occur and Dr. Raskin prides herself on her ability to help patients suffering from blepharoplasty complications.