Conveniently located for Fairfield County & Westchester patients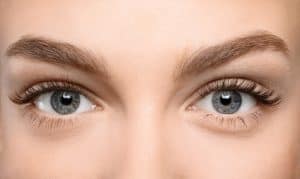 Your eyes are one of the most expressive, noticeable features on your body. Unfortunately, the effects of aging can reduce the vibrancy of your eyes, altering not only your appearance, but also the way people perceive you. Eyelid surgery, also known as blepharoplasty, can rejuvenate your face by elevating drooping eyelids and smoothing out the bags underneath your eyes.
Dr. Elsa Raskin is a leading plastic surgeon who specializes in eyelid surgery. Having completed a residency in ophthalmology at the New York Ear and Eye Infirmary, she has an in-depth understanding of ocular anatomy that other plastic surgeons lack, which allows her to achieve superior eyelid enhancement for her patients in Greenwich.
TYPES OF EYELID SURGERY
Dr. Raskin performs both upper and lower blepharoplasty. Upper eyelid surgery focuses on sagging upper lids. With age, the eyelid muscles become weaker and require more effort to open fully. Drooping fat and loose skin can also weigh down on the upper eyelids, pushing them down further. By tightening these muscles and removing excess fat and skin, Dr. Raskin enables your eyelids to open more easily for wider, younger-looking eyes.
Lower eyelid surgery deals with the sensitive skin below the eye. Aging, genetics, and sun damage can contribute to dark circles and deep hollows (tear troughs) on your skin. This can contribute to you looking tired, even when you are not. With precise surgical skills, Dr. Raskin can remove and reposition fat and smooth this skin for a refreshed appearance.
BENEFITS OF BLEPHAROPLASTY
Benefits of having upper and/or lower eyelid surgery include:
Rejuvenating the face
Reducing "hooding" of sagging upper eyelids
Improving the symmetry of your eyelids
Increasing your field of vision by helping the eyelids to open more completely
Smoothing the bags beneath the eyes for a more rested, energized appearance
Eliminating traits that make your face look "angry" so that you are more approachable
Best of all, the results are more subtle than other forms of plastic surgery. Your friends and colleagues may ask if you are getting more sleep or trying a new skin care routine, but it should not be obvious that you have had a surgical procedure performed.
EYELID SURGERY PROCEDURE DETAILS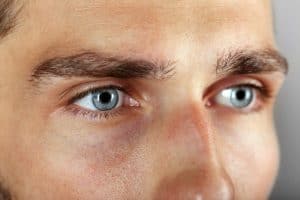 Dr. Raskin uses anesthesia (local or IV Sedation) to keep you comfortable during your surgery. The entire procedure can take one to two hours, depending on how many eyelids are being addressed. Dr. Raskin is careful to place incisions on the natural creases of the lids where scarring is nearly impossible to detect. Through these small incisions, she can tighten muscles, remove loose skin, and remove/reposition fat to achieve your desired outcome.
BLEPHAROPLASTY RECOVERY & RESULTS
You can expect to experience bruising and swelling in the days after your surgery. Stitches are removed about six days after the procedure. You should feel (and look) well enough to return to work about seven to 10 days after surgery. For the first few weeks, you may notice some light sensitivity and eye dryness. You should not wear contact lenses during this same period.
When performed by an expert like Dr. Raskin, upper eyelid surgery results can last for over a decade. However, the effects of aging will eventually cause muscles to weaken and skin and fat to droop again. With lower eyelid surgery, the results are considered permanent, with no need to repeat the surgery in the future.
EYELID SURGERY COSTS
The price of your surgery depends on the extent of aging present around your eyes and your specific cosmetic goals. The price range is usually $4,000-$6,000. Financing options are available.
WHY YOU SHOULD CHOOSE DR. RASKIN FOR EYELID SURGERY
Thanks to her background in oculoplastic surgery, Dr. Raskin has had more education and experience performing blepharoplasty than most of her colleagues. She has developed signature techniques that allow her to achieve precise results that look natural and attractive. She prioritizes patient safety to avoid any vision complications and performs surgery in such a way that recovery is easier and the scarring fades from visibility over time.
Call (203) 861-6620 to schedule a consultation with Dr. Raskin.
"TRULY HAS AN EYE FOR PERFECTION AND STRIVES FOR IT WITH EACH PATIENT."
I have known Dr Raskin for several years. I had the pleasure of seeing her about 15 years ago originally and subsequently referred a family member to her for several injectable appointments and a blepharoplasty. She created an amazing outcome and truly has an eye for perfection and strives for it with each patient. I reached out to her for a consultation for myself after many years of contemplation and about 4 surgical consultation with other surgeons in NYC and NJ. I was seen in the office within 1 week of my call and likely could have been seen even soon had my schedule permitted. The office staff was friendly and accommodating. I was greeted by Dr. Raskin with a warm and genuine friendly welcome. She took measurements and offered several options based off of desired results that I provided to her that were photos found online. As a professional in the surgical field, I can confidently say that my experience in the surgical center was extraordinary. I felt tended to as if I were the only patient having surgery that day. The nurses in the pre op and recovery room as well as OR staff and anesthesiologist were amazing. I walked out of the hospital about 2 hours after my surgery feeling great. Now, 2 month out of surgery, I will say that this is one of the best decisions I have made in my adult life and a majority of that statement is owed to the expertise, and artistry of Dr Raskin. I am thrilled with the result, the shape, symmetry and overall care that I have received and would recommend anyone to see her in consultation, she is a true gem.GP, blepharoplasty