Conveniently located for Fairfield County & Westchester patients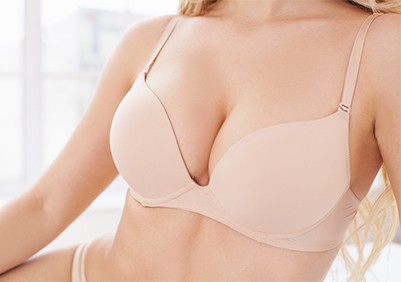 When a patient is unsatisfied with the results of their breast augmentation surgery, they can have them corrected with the help of breast revision in Greenwich. This corrective breast surgery can be used to address a wide variety of issues after breast augmentation.
Implant Type Changes
Patients who are unhappy with the type of implant used in their primary breast augmentation can undergo breast revision to switch to another implant type.
Changing from saline implants to silicone implants is a common occurrence, since silicone breast implants are said to have a more natural look and feel. Saline breast implants are also heavier and firmer than silicone implants.
In instances where silicone breast implants have ruptured and the material has escaped the scar-tissue capsule, causing complications, patients may be more inclined to switch to saline implants.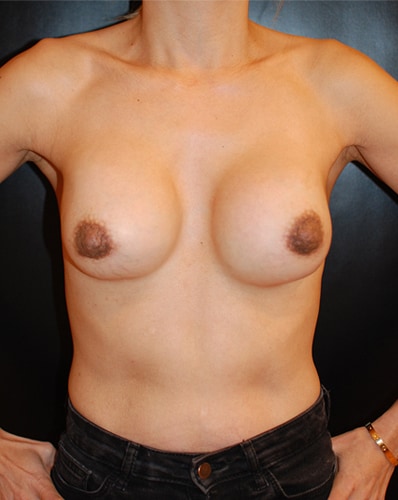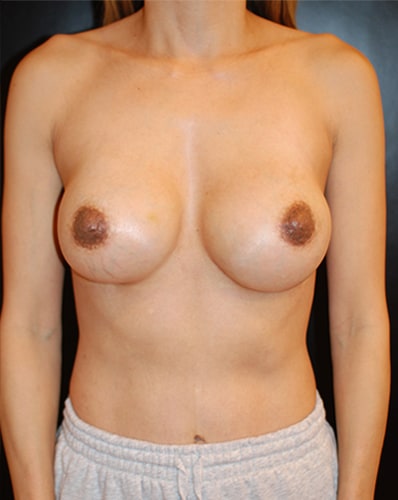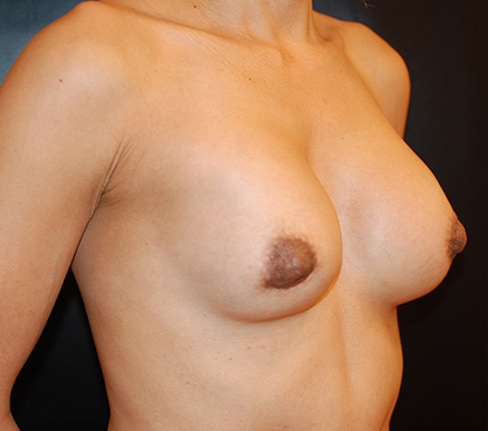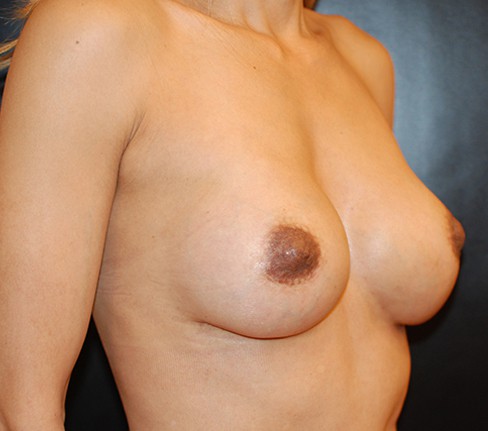 * Individual results may vary.
Photo Gallery
View before-and-after pictures of real patients of Dr. Elsa Raskin
Correcting Breast Asymmetry and Malposition
After a primary breast augmentation, some people feel like their breasts are not symmetrical enough. Breast revision can offer the size changes needed to achieve better symmetry.
The implants may also have been improperly positioned or may have shifted after the recovery process was complete. Revision surgery can correct implant malposition for a more pleasing appearance.
Size Changes
Patients often feel that their results do not have as much volume as they would like. These patients can benefit from replacing their silicone implants with larger implants. Saline implants can be filled with more saline during revision breast augmentation to achieve increased volume.
Fat Transfer vs. Implant Augmentation
Fat transfer breast augmentation is a form of natural breast enhancement that many women prefer. However, in some cases, this procedure does not provide the volume they were hoping for. Additionally, some transferred fat does not survive the grafting process, leaving patients with less volume. Breast revision can add implants to create the desired volume.
"She exceeded my expectations, she beats them all hands down.."
"Dr. Raskin is the best Dr. in the tri-state area. She is caring, professional and understanding. As a patient who has had prior procedures with NYC plastic surgeons, and prior disappointing results. I was recommended Dr Raskin through a friend. She exceeded my expectations, she beats them all hands down, as far as bedside manner, understanding my concerns, explaining the procedure, her skills as a surgeon, and the follow up with me post procedure. Dr Raskin is 10/10, one of the best, if not the best in the NYC area. She is a NYC Doctor, fortunately practicing in Greenwich, CT. Outstanding Dr!!! Thank you Dr. Raskin."
breast revision
Correcting Other Issues
Breast revision can also be used to correct a number of other issues after primary breast augmentation.
Capsular Contracture: Scar tissue naturally forms around breast implants. When this capsule of scar tissue is thicker than normal, it can contract around the implant, causing pain and stiffness to occur. This is known as capsular contracture. It can be resolved in a number of ways using breast revision.
Rippling: When the skin of the breast is thin and there is not a great deal of breast tissue present, the implant's shell can cause ripples to form in the overlying skin. This rippling effect can be addressed with the help of revision breast surgery.
Breast Implant Ruptures/Leaks: When an implant's silicone shell develops a tear, this is known as an implant rupture. When the material inside the shell escapes through a rupture, this is called a leak. In these cases, your implant must be removed with breast revision as soon as possible. In instances where the silicone escapes the silicone shell and the scar-tissue capsule, complications may occur, making removal especially vital.
Breast Revision Cost
The price of breast revision is dependent on a number of details, including the types of issues present and the techniques required to correct them. Additionally, revision breast surgery cost is impacted by the time needed to perform the surgery, the types of implants used, and many other factors.
What Should I Expect During My Initial Consultation?
Regardless of whether you are a returning patient, or if this is your first appointment at our office, the initial step of your breast revision treatment is a consultation with Dr. Raskin. She will discuss your areas of concern as well as your cosmetic goals. Dr. Raskin will go over your medical history, and your overall health will be assessed to confirm your candidacy. Additionally, you can expect to discuss the following items in detail with Dr. Raskin:
Medical conditions
Lifestyle, including tobacco use
Current medications
Your breasts will then be fully examined and measured, and Dr. Raskin will let you know if your goals are achievable through breast revision surgery.
What Should I Expect After the Procedure?
After breast revision surgery, your incisions will be dressed or bandaged, and you may need to wear a supportive garment, depending on the specifics of your surgery. In some cases, a tube will be inserted under the skin to drain fluid and blood. To increase your chances of a smooth recovery, you will need to adhere to Dr. Raskin's aftercare instructions, which may include:
How to clean and dress your incisions
Medications to relieve pain and prevent infection
How to recognize signs of complications
When to follow up with Dr. Raskin
Activities to avoid, such as strenuous activity or lifting heavy items
Dr. Raskin will let you know when it is safe to return to your regular activities; patients usually feel ready to go back to work one to two weeks after surgery, although healing will continue even after that time.
Breast Revision Results
The results of a breast revision are often immediately noticeable, but patients should expect continued improvement in the appearance of the breasts as swelling and bruising diminish over time. In addition, your results will depend on your initial reason for seeking a breast revision. Patients who desire a larger breast size should see added volume, whereas those interested in removing implants entirely will find they now have smaller, natural-looking breast contours. Likewise, if a patient needs breast revision surgery to correct an issue such as implant rupture, they can rest assured knowing that their health and appearance are restored after surgery.
Can Other Procedures Complement a Breast Revision?
It is common for patients seeing breast revision to have other cosmetic concerns. If you are interested in improving other aspects of your appearance, discuss your needs with Dr. Raskin during your consultation. She will provide you with additional details regarding procedures that can maximize your results.
This may include a breast lift, which can effectively reposition the nipple and eliminate excess skin, which is useful in cases where an implant was removed. Additionally, liposuction can sculpt the contours of the body overall to provide a comprehensive result. Some patients may also be interested in a tummy tuck when they come in for a breast revision consultation, especially if a patient's pregnancy has resulted in significant changes to both the breast and abdomen. Dr. Raskin will work with you to devise a treatment plan that helps create harmony between the breasts and the rest of the body.
Arrange Your Consultation
Dr. Elsa Raskin has performed numerous breast revisions for Greenwich patients. She has the experience needed to give her patients the results they deserve. To find out more during a consultation, contact our office today.