Conveniently located for Fairfield County & Westchester patients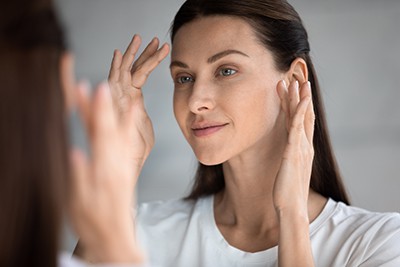 Dr. Raskin adopted the deep plane facelift technique at the Elsa Raskin MD to give her patients long-lasting and natural results. Patients who undergo traditional facelifts can sometimes end up with an overly tightened appearance. Deep plane facelifts, on the other hand, offer results that are more natural-looking.
What Is a Deep Plane Facelift?
A deep plane facelift is a facelift technique that reaches deep into the muscular layer called the SMAS-platysma complex. The surgery involves the release and movement of ligaments and muscles, as opposed to the traditional method, which focuses on tightening of external skin.
Once the ligaments are released, the tension is released, resulting in more comprehensive suspension of the upper tissue layers. Since the platysma muscles are also addressed, this technique achieves a more youthful jawline and neckline. Excess skin and fat may also be removed or repositioned to address volume loss.
Most healthy patients are able to have their deep plane facelift at the Elsa Raskin MD under intravenous sedation in addition to a local anesthetic.
As a result of this procedure, the face looks revitalized. Wrinkles like the nasolabial folds, marionette lines, and parentheses lines are smoothed away, and drooping face and neck skin are tightened.
Good Candidates for a Deep Plane Facelift
If you have significant skin laxity in the midface region, jaw, and neck, you may be an ideal candidate for a deep plane facelift. It is best to be in good overall health and to be a non-smoker (or be willing to quit several weeks before the procedure date).
If you are worried about ending up with an overly stretched appearance due to a traditional facelift, then you may benefit from a deep plane facelift. Most patients who undergo deep plane facelift surgery are anywhere from their 40s to their 70s.
If you have a history of adverse reaction to anesthesia, bleeding disorders, or keloid scarring, then you may not be recommended for this facial rejuvenation procedure.
Your Consultation
Your deep plane facelift consultation will include a physical assessment of your face. Your medical history will be thoroughly reviewed to determine your candidacy for the surgery. You will be asked about any current medications, underlying medical conditions, and recent surgeries.
You will be informed about the potential benefits and complications during this consultation. A customized treatment plan will be developed to address your specific concerns.
"My experience at Raskin MD could not have been better"
My experience at Raskin MD could not have been better! Initially, I was unsure which procedure I would need and was anxious to have a major surgery. Dr. Raskin met with me multiple times over the span of a few months and made me feel completely comfortable. Lisa was available to answer my [many] questions both pre-op and post-op and everyone in the office is so friendly. I am very happy with my decision to have my procedure done at Raskin MD and would recommend Dr. Raskin to anyone! Satisfied Patient
The Deep Plane Facelift Procedure
The whole deep plane facelift process can take three to five hours, depending on the complexity of the work. The first step is the administration of anesthesia. The skin is then marked.
Incisions are made, and through these tiny incisions, deep tissue manipulation is performed. Ligaments are released, and muscles are adjusted as needed. The incisions are closed in two layers of stitches after the desired outcome is achieved.
The Recovery Process
The usual recovery period following a deep plane facelift is several weeks. Bruising, swelling, and discomfort are normally experienced. Pain medications and antibiotics will be prescribed to manage symptoms and prevent infection.
It may take two weeks before you can return to work. Light exercises can be resumed after three weeks, and more strenuous activities can be performed six weeks after treatment.
Cost of Deep Plane Facelift Surgery
The cost of deep plane facelift surgery varies from patient to patient, as it is a highly personalized procedure. The overall price may be impacted by the anesthesiologist fee, facility fee, and surgical fees, as well as any additional surgeries performed in conjunction (such as eyelid surgery, fat grafting, and/or laser resurfacing.) The cost of deep plane facelift surgery runs from $25,000-$30,000.
How to Prepare for Your Upcoming Facelift
Ahead of your scheduled surgery, Dr. Raskin will let you know what you will need to do to prepare. For example, you may need to adjust or stop using your current medications or vitamins, such as aspirin or herbal dietary supplements. Additionally, you may need to start taking new medications, as instructed by Dr. Raskin. You may also need to begin applying special products to your face in the days or weeks leading up to surgery. If you smoke, you will need to quit; smoking can seriously jeopardize your recovery and lead to slow healing and complications. Dr. Raskin and her skilled team will ensure that you are informed every step of the way.
Combining Treatments
It is not uncommon for individuals who want a facelift to also have other aesthetic skin concerns. Unfortunately, signs of aging rarely affect only one area of the face. For patients experiencing loss of volume due to age, facial fillers may be recommended to restore plumpness to the skin, whereas a lip lift may be beneficial to patients who want their lips to reflect the same youthfulness as the rest of their face. Rhinoplasty is another procedure that is often combined with facelift, as are nonsurgical procedures that focus on improving the complexion overall, such as laser resurfacing. Dr. Raskin will work with you to understand all of your cosmetic goals and create a treatment plan that may include a strategic combination of both surgical and nonsurgical procedures to help you achieve those goals.
Scars
Many patients are curious about the scars they may be left with after their deep plane facelift. Dr. Raskin is a skilled professional who has delivered excellent surgical results for many patients. She strives to minimize scarring wherever possible, based on the details of your treatment plan and the exact technique used. Scars are directly related to the incisions made during the procedure, and deep plane facelift includes incisions in the hairline, where the resulting scars can be easily concealed.
Deep Plane Facelift VS Other Methods
There are a number of facelift procedures available, and the procedure used depends on the area targeted and the results desired. Deep plane facelift is used to address multiple areas of the face and provides a deep rejuvenation for dramatic results. Learn about other facelift surgeries below:
Traditional facelift: A traditional facelift involves separating the skin from the tissues below, repositioning it, and removing any excess for a tighter look.
SMAS facelift: For patients who are troubled by the lower portion of their face, an SMAS facelift can improve sagging skin on the cheeks or surrounding areas.
Mini facelift: Mini facelift provides subtle anti-aging results. It is typically recommended for patients who are younger, those with few signs of aging, and individuals who are interested in a quicker procedure.
Cutaneous facelift: For a lift that focuses on tightening the skin only without improving the underlying structure, a cutaneous facelift is the ideal procedure.
For more information on the right facelift surgery for you, schedule a consultation with Dr. Raskin.
Schedule Your Consultation
Restore a youthful appearance without that overstretched look by undergoing a deep plane facelift at the Elsa Raskin MD. Contact the office of Dr. Elsa Raskin to schedule your consultation and learn more about the lasting benefits of this facial cosmetic surgery.