Conveniently located for Fairfield County & Westchester patients
WHAT IS A BREAST LIFT?
Breast lift surgery performed to reshape and raise sagging breasts and to reduce the size of the areola. It can also be performed with implants to increase the volume and firmness lost over the years due to pregnancy, weight loss, or aging.
THE PROCEDURE
Breast lift surgery typically takes about an hour and a half to three hours to perform and usually requires general anesthesia. The type of breast lift surgery depends on the amount of skin that needs to be removed to create the desired lift. Minimal lifts consist of an incision that is confined to a circle around the areola. Moderate lifts require both vertical and areola-area incisions. If the breast lift is substantial, an anchor-shaped incision that follows the breast's natural shape will be made. After the incisions excess tissue is removed, the nipple and areola is repositioned, and the breast is lifted and shaped.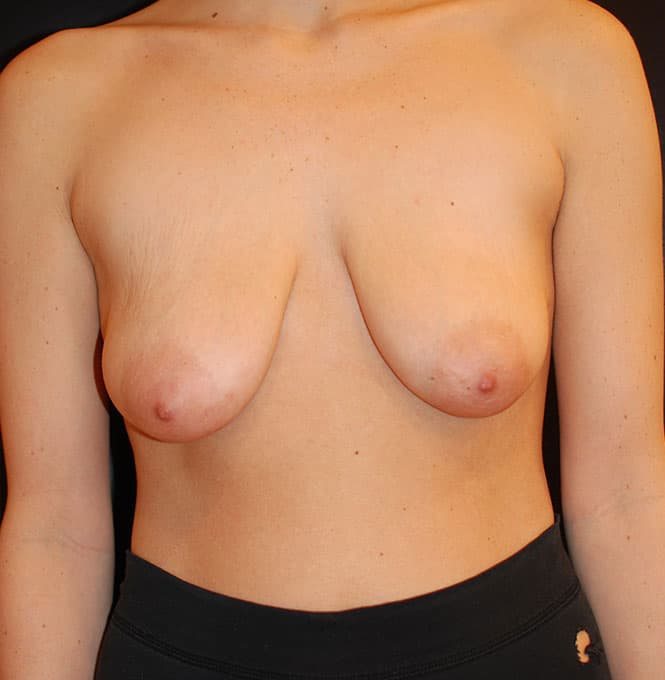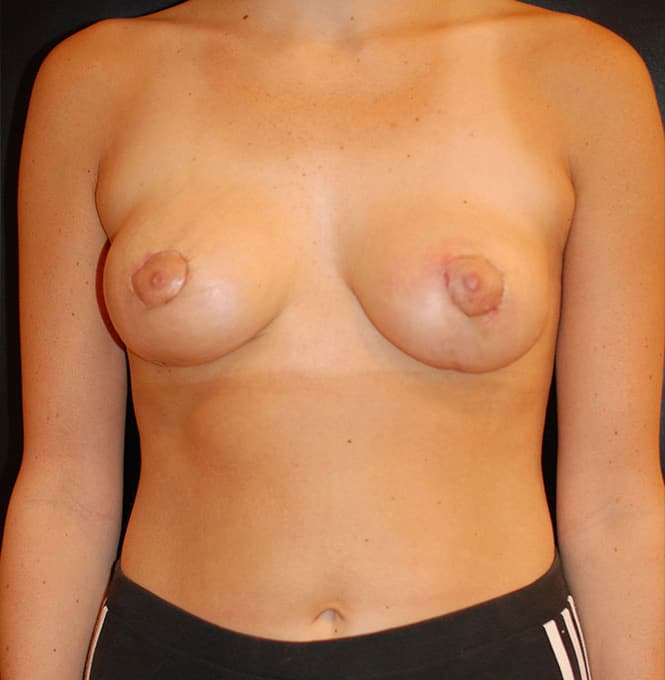 * Individual results may vary.
Photo Gallery
View before-and-after pictures of real patients of Dr. Elsa Raskin
POST-OP AND RECOVERY
Your breasts will be wrapped in bandages after your procedure and remain there for two days. Then you will be required to wear a sports bra with a front zipper 24 hours a day for three to four weeks. Stitches will be removed after about a week or two and the initial swelling will begin to subside, revealing their new shape. You will need to avoid strenuous activity for three or four weeks after surgery and it can take over a week to be able to return to work. The swelling that occurs can cause a loss of sensation to your breasts and nipples, but this will fade within six weeks. Rarely does this numbness last for more than a year, but it can potentially be permanent.
What is the Cost of Breast Lift?
Though pricing can vary significantly based on the scope and individual needs of the patient, the typical price range is $5,000 – $7,000.
"I WOULD RECOMMEND DR. RASKIN, WITHOUT RESERVATION, TO ANY WOMAN PURSUING A BREAST LIFT WITH IMPLANTS."
I had been considering a breast lift with implants for quite some time and I consulted with several different doctors regarding this procedure. It was not until I met with Dr. Raskin that my concerns were alleviated. Dr. Raskin's knowledgeable and professional manner helped me understand all of the options available to me. She worked very closely with me to ensure that my desired outcome would be realized. I would recommend Dr. Raskin, without reservation, to any woman pursuing a breast lift with implants. T.G., Breast lift with augmentation
RISKS OF BREAST LIFT SURGERY
Potential complications after breast lift surgery include infection, bleeding, adverse reaction to anesthesia, asymmetry, and loss of sensation in the nipple and surrounding tissue. Scarring will occur with breast lift surgery. These risks very rarely occur and
Dr. Elsa Raskin
has performed several breast lift procedures with exceptional results.
What Is Breast Ptosis?
Breast ptosis refers to the drooping of breast tissues. Also known as breast sagging, ptosis is natural; most women experience some sagging and many experience volume loss or other changes to their breasts over time. In addition to aging, ptosis is often associated with significant weight loss, genetics, pregnancy, and hormonal fluctuations — all of which may cause the breasts to lose their lifted position.
Many patients are bothered by the appearance of sagging breasts and may feel insecure about how their breasts look in certain tops. A breast lift is a great solution for restoring a more youthful breast contour.
Why Choose Dr. Raskin for Your Breast Lift
Choosing a surgeon for your breast lift surgery is a major decision. It is essential to select a surgeon that has experience producing the results you desire. Every breast lift performed by Dr. Raskin is tailored to meet the needs and goals of the patient. As a
board-certified plastic surgeon, Dr. Raskin
has the technical skill and expertise needed to craft a beautiful result. When you choose Dr. Raskin for your breast lift, you can rest assured that you will receive excellent care that prioritizes your safety and satisfaction.
Breast Lift FAQ
What happens during my consultation?
During your breast lift consultation, a physical examination of the breasts, including the quality of the skin and the position of the nipples, will be performed. This will help determine your specific treatment options and the technique that will be used during the procedure. You will also have the chance to share your cosmetic goals and expectations with Dr. Raskin and learn about where your incisions will be located. Dr. Raskin can address any questions you may have about the procedure so that you are fully prepared for the surgery, recovery, and results before going in for your breast lift.
Am I a candidate for breast lift surgery?
Your candidacy for breast lift surgery will be determined during your consultation with Dr. Raskin. Those considering breast lift surgery often have:
Breasts that have lost volume
Breasts that have begun to sag
Nipples that point downward and hang below the natural crease of the breasts
Areolas that appear stretched and are not proportionate to the rest of the breasts
Breasts that appear deflated or elongated
What kind of scars should I expect following my breast lift?
Your breast lift scars depend on the technique that is used during your procedure. Your incisions could be placed in the following locations:
Around the areola
A line that extends from the areola to the crease of the breast
Horizontally in a line that follows the breast crease
After your surgery, your incisions may appear pink or reddish. They may also have a lumpy texture. However, the resulting scars will soften and flatten out over time. Additionally, breast lift scars can often be easily concealed in a variety of clothing, including swimsuits.
How much does a breast lift cost?
The cost of breast lift surgery depends on a number of factors, including the technique used and the level of correction required. Pre-operative and post-operative appointments, surgical materials, and any specialized garments to be worn during recovery can also be factored into the total cost of your procedure.