Male Breast Reduction
Conveniently located to serve the Connecticut, New York, and the Tri-State area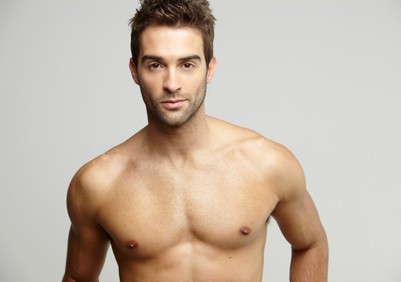 Excess breast tissue, also known as gynecomastia, is a surprisingly common problem for many men. It can cause the sufferer to feel less masculine, affect their confidence, and their personal relationships.
Male breast reductions removes the surplus tissue and improves the appearance of the chest, helping to increase self-esteem and body confidence. Top plastic surgeon in Greenwich, CT, Elsa Raskin, MD offers male breast reductions to help you achieve a more confident body image.
Why do I have excess breast tissue?
Gynaecomastia, sometimes referred to as 'man boobs' affects as many as 65% of men and is most often seen among middle-aged and older men.
Up to 70% of males will experience the condition during puberty, but occasionally this does not resolve, and the patient will continue to suffer from gynaecomastia into adulthood.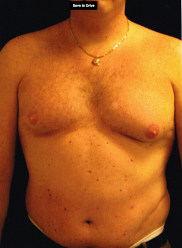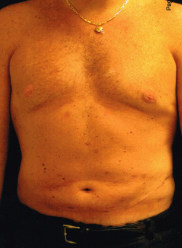 * Individual results may vary.
Photo Gallery
View before-and-after pictures of real patients of Dr. Elsa Raskin
Taking specific prescription medication can also cause excess male breast tissue to develop, including drugs used to treat heart failure, high blood pressure, fungal infections and even stomach ulcers and heartburn.
If your gynecomastia is caused by one of your medications, you should speak to your healthcare provider about transferring to another drug that does not have this side effect.
Hormone imbalance is another common cause of gynecomastia. This is because as men age, their bodies naturally produce less testosterone. Older men also tend to have a higher ratio of body fat meaning that greater levels of estrogen are produced.
Weight loss sometimes causes the loose skin on the chest, which can look like small, sagging breasts. However, in some cases, the exact cause of excess breast tissue in men is not known.
Am I a suitable candidate for a male breast reduction?
Before you can be approved for any surgical treatment, it will be necessary for you to attend a comprehensive consultation with Dr. Raskin. At this appointment, Dr. Raskin will ask you for detailed information about your health, general well-being, and lifestyle, as well as undertaking an examination of your chest. This will help her to determine if you are a suitable candidate for reduction surgery.
What happens during male breast reduction surgery?
The breast reduction procedure is relatively straightforward and quick. The surgery is performed while the patient is under general anesthetic, although you should be able to return home later that day.
A small incision is made around the areola, where the excess fatty tissue is removed. This is normally done via liposuction, but if there is a large amount of tissue to be removed, it may be necessary for Dr. Raskin to make additional incisions.
In some cases, it may be necessary to move the nipple to a more natural, aesthetically-pleasing position. The incisions will be closed and bandages will be placed across your chest to keep the incision site clean, support your chest, and control swelling.
How long will it take to recover from my male breast reduction?
After your operation, you will be taken to a room where you can come around from the anesthetic.
Your chest may be swollen and bruised in the days and weeks following your surgery. After a few days, you will be able to remove your bandages, but you may need to wear a supporting garment for up to six weeks which will support your chest as it heals.
Dr. Raskin will give you specific instructions for caring for yourself during your recovery, including how long to take off from work and how long to avoid strenuous activity. These should be followed precisely to minimize any complications and give you the best result from your male breast reduction surgery.
Male breast reduction surgery can help you achieve peace of mind in your body image. Dr. Raskin and her experienced team deliver the highest quality procedures and patient care. Start your journey to achieving the body you deserve and regaining your confidence by making an appointment today at 203-861-6620.