Conveniently located for Fairfield County & Westchester patients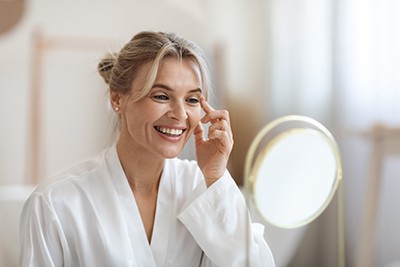 Patients who want to get rid of visible aging signs and sun damage can turn to our state-of-the-art PRP treatment at the Greenwich Plastic Surgery Center. We use the Selphyl PRFM system to help patients look younger, healthier, and more vibrant.
What Is a PRP Treatment?
A PRP treatment involves extracting Platelet-Rich Plasma, or PRP, from the patient's own blood and administering it to target areas for rejuvenation. This is a safe, effective, and minimally invasive option to help patients regain their youthful look.
PRP is extracted by separating the platelets and plasma from the other parts of the blood. The use of the Selphyl PRFM system has the additional advantage of fully filtering out all red and white blood cells. As a result, only pure PRP is used.
This pure PRP is converted into PRFM (Platelet-Rich Fibrin Matrix). PRFM offers a higher concentration of platelets for enhanced results. It is also active in the treated area for longer.
The Benefits of PRP Treatment
As a result of the aging process, the body's rate of collagen and elastin protein production naturally decreases. This causes the skin to sag and causes wrinkles to form. In addition, tissue is lost from the skin's underlying fat layer, resulting in facial depressions and hollows.
Platelets in the blood contain a number of natural growth factors. When PRFM is introduced to the skin, the growth factors it contains can create a variety of benefits.
Several of these growth factors encourage new cell growth, including growth of epithelial and vascular endothelial cells. Epithelial cells line the epidermis (the superficial skin layer). Vascular endothelial cells line the veins, arteries, and the rest of the circulatory system.
Many growth factors also stimulate wound healing, encourage new collagen production, and promote the creation of new blood vessels. Collagen improves skin elasticity, and healthy blood vessels are able to more effectively nourish tissue with nutrients.
By encouraging the creation of these structural elements of skin tissue, PRP treatments make the skin look and feel healthier. Scars and age lines are reduced, undereye circles fade, hollow depressions are filled in, and skin firmness/thickness is increased.
"Dr. Raskin is, hands down, one of the best! She is extremely talented and has a very caring bed-side manner. Her attention to detail and natural approach make the whole experience that much better. I would, without reservation, recommend her for any and all surgical and non-surgical procedures."
Satisfied Patient
Who Is in Need of a PRP Treatment?
PRP treatments are incredibly simple and natural, and as a result, most people are excellent candidates for them. Patients who want to look more youthful without resorting to invasive surgical treatments are good candidates for a PRP treatment.
Your Consultation
At your consultation, you will find out more about the PRP treatment process, including preparation and aftercare steps. Your skin imperfections will be examined, and you will be asked questions regarding your health and medical history. Feel free to ask questions at any time.
Your PRP Treatment Session
The Selphyl PRFM PRP treatment starts by extracting blood from the patient. Once this has been turned into PRFM using the Selphyl system, it is administered to the patient.
In some cases, PRFM is administered via injections, while in others, microneedling is performed before it is administered. Microneedling creates microchannels in the skin tissues, allowing for deeper penetration of PRFM.
After Your PRP Treatment
A PRP treatment is often quick and minimally invasive, which means that there are no long recovery periods involved. The patient can return to their previous activities right after treatment.
Patients will be advised to avoid applying harsh chemical products to their faces while the PRP does its job. Physically demanding activities should also be avoided as much as possible over the next few days.
How Much Does a PRP Treatment Cost?
For patients wondering how much a PRP treatment would cost, this will depend on several factors. The number of sessions needed can affect the price, as can the severity of the signs of aging being addressed. The addition of microneedling may also affect overall cost.
Contact Us for Your PRP Treatment Consultation
Learn more about PRP treatment at the Greenwich Plastic Surgery Center—contact us today to schedule an appointment for a consultation!