Conveniently located for Fairfield County & Westchester patients
About Breast Reduction
Breast reduction is also referred to as reduction mammoplasty. This type of plastic surgery is performed to make the breast smaller. During the surgery, Dr. Raskin removes excess glandular tissue, fat, and skin to reduce the size of the breast and improve its position on the chest.
For some patients, breasts that are too large are not just a cosmetic concern. Breasts that are too large or sag against the chest can lead to chronic pain and skin issues in that area. Because of this, a breast reduction can result in an improvement in the patient's overall well-being.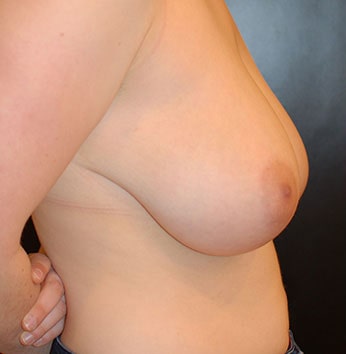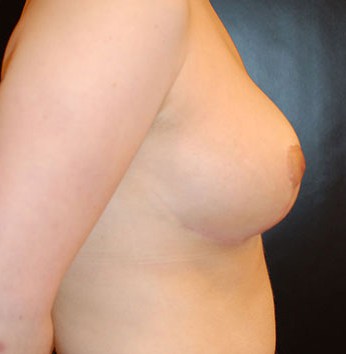 * Individual results may vary.
Photo Gallery
View before-and-after pictures of real patients of Dr. Elsa Raskin
Who Needs Breast Reduction Surgery?
Overly large breasts can sometimes negatively impact a woman's life. They can be cumbersome and cause pain in the shoulders. They can also be an inconvenience when shopping for clothing, swimsuits, and undergarments. Having breasts that do not fit your frame can make you feel uncomfortable in front of others and can even lead to issues with self-esteem. Breast reduction surgery may be right for you if:
You wish to reduce the size of your breasts
You suffer from chronic pain in the shoulders, neck, and/or back due to large breasts
You suffer from recurring skin issues under the fold of the breast
You avoid participating in sports and other activities due to discomfort from large breasts
You have breasts that are not in proportion to the rest of your body
Breast Reduction Testimonial
Breast Reduction Incision Patterns
Anchor incision: This common breast surgery technique involves three distinct incisions. First, Dr. Raskin makes an incision around the areola. Then, the second incision is placed down from the areola to the crease of the breast. Finally, the third incision is made horizontally along the breast crease. This technique is ideal for those with very large breasts or who need a large amount of excess tissue and skin removed during their operation. You are able to achieve the most dramatic results from his technique.
Keyhole Incision: For smaller breast reductions a keyhole incision is performed using two distinct cuts. The first incision is around the areola's perimeter and the second goes vertically down from the bottom center of the areola to the breast crease. It is similar to the anchor technique, except there is no third incision along the breast crease involved. This technique is a great solution for those with moderate breast sagging.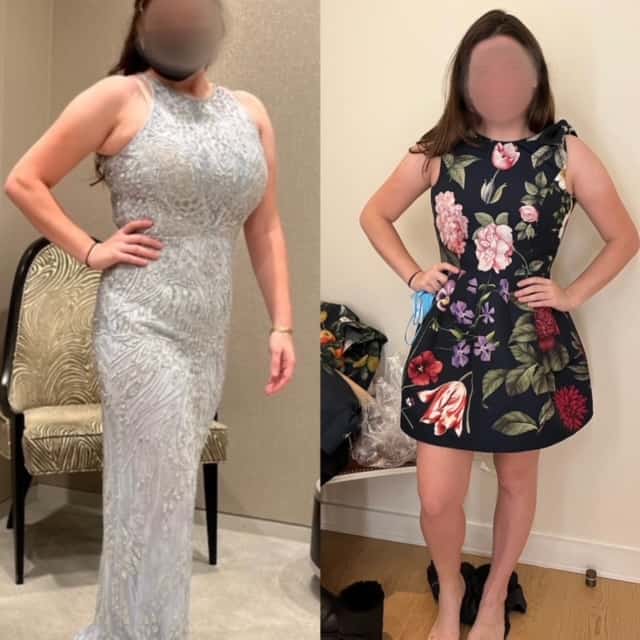 What to Expect
Before surgery: Breast reduction surgery is intended to be an outpatient procedure; as such, you can expect to return home on the day of your surgery. You will need to make arrangements for someone to drive you home. Dr. Raskin requires that you purchase a surgical bra to wear for six weeks during your recovery.
During surgery: Breast reduction is performed under general anesthesia and typically takes two to four hours, depending on the technique used. Dr. Raskin will discuss the technique that will be used during your procedure ahead of time so that you know what type of scarring and results to expect following your surgery.
After surgery: You should plan to take a few weeks off from work after breast reduction surgery. Immediately after your procedure, you may experience some pain and discomfort, which can be managed with prescribed medication. You must follow Dr. Raskin's post-operative care instructions during your recovery, including avoiding strenous activities for six weeks.
Results
Most patients are extremely pleased with their breast reduction results and enjoy an improved quality of life. Results are intended to be permanent assuming you do not have any significant fluctuations in weight.
"Nothing gives me more satisfaction than the pride my patients have in their new transformed bodies or faces after they see their final outcomes."
Dr. Elsa Raskin
"I HIGHLY RECOMMEND DR. RASKIN TO ANYONE LOOKING FOR A AN EXEMPLARY PLASTIC SURGEON!"
Dr. Elsa Raskin performed my breast reduction surgery. Not only am I completely thrilled with how much better they look in terms of lift and size, but I have less scarring than anticipated. She was thorough and clear on managing expectations. The follow up care was also wonderful as I needed some extra attention regarding low iron levels and other medical issues that would not typically involve her. I highly recommend Dr. Raskin to anyone looking for an exemplary plastic surgeon! JD – breast reduction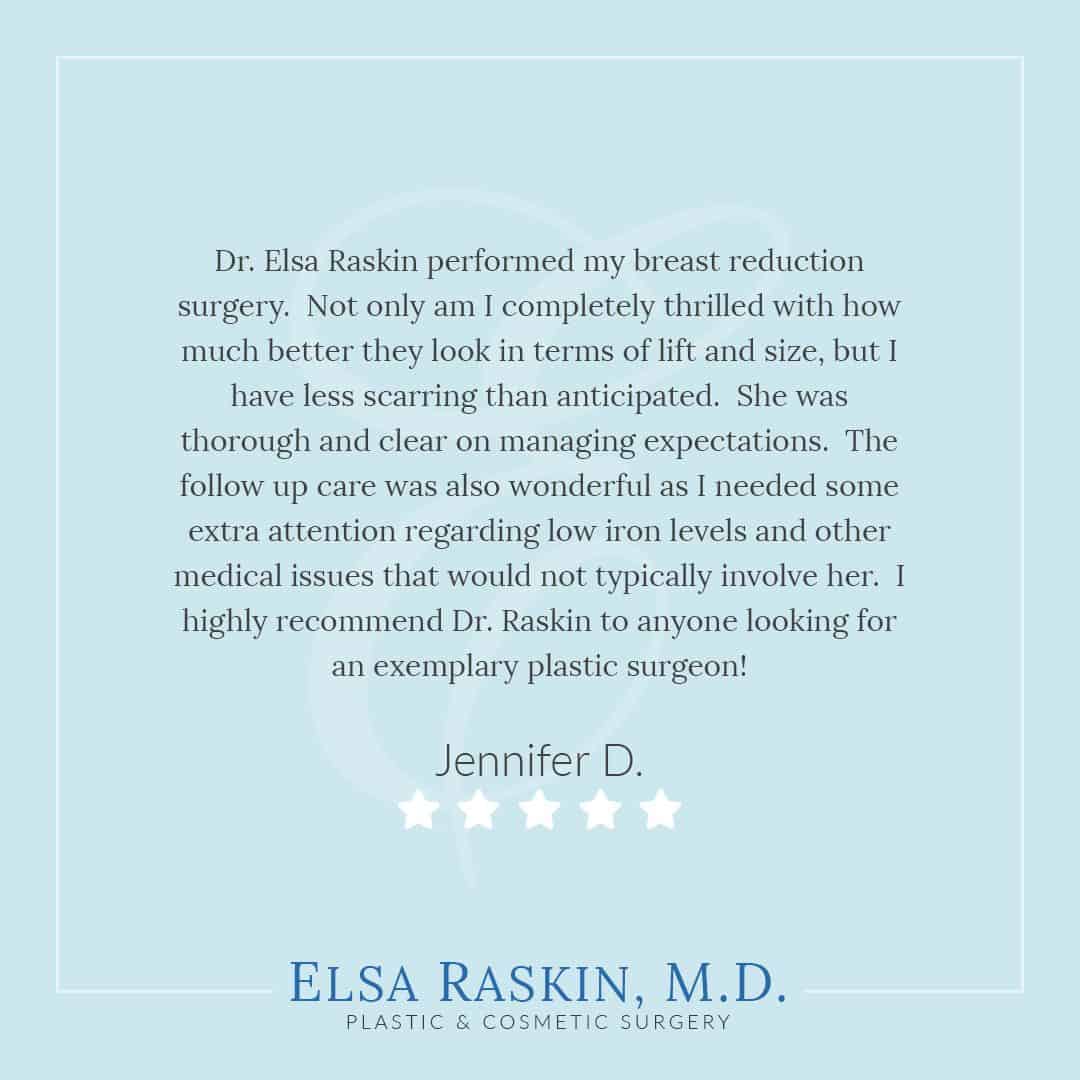 "SHE IS EXACTING AND AN ARTIST."
I highly recommend Dr Raskin. She is incredible. We saw several "famous" plastic surgeons in NYC before deciding to have Dr. Raskin perform a breast reduction on my daughter. She is exacting and an artist. She has a wonderful bedside manner, responds immediately to questions, and takes the time to completely explain the process. She had my daughter bring her photos of what she wanted her breasts to look like and she matched the photos exactly. – Satisfied Patient – breast reduction