Conveniently located for Fairfield County & Westchester patients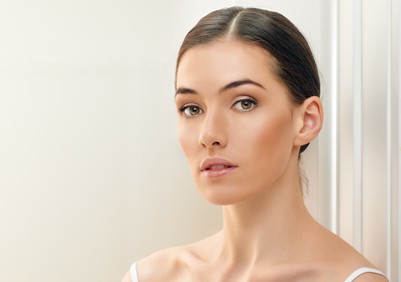 At the office of Dr. Elsa Raskin, we offer RHA® fillers in Greenwich to rejuvenate your facial appearance. As we age, the skin loses elasticity and begins to sag, causing wrinkles and folds that can make us appear much older than our actual age. It can be incredibly frustrating to look in the mirror and see a face that looks older than we feel. Fillers are an effective solution.
How do RHA® fillers work?
RHA® dermal fillers plump the skin, reducing the appearance of lines and folds. These injectable gel fillers are composed of non-animal-sourced hyaluronic acid (HA). HA binds with water molecules in the skin tissues to create volume and structure. Since wrinkles come about due to the body's natural loss of HA, RHA® fillers act as a supplementary treatment.
Unlike other HA fillers, RHA® injectables can move incredibly naturally with facial expressions and movements. This makes them ideal for creating very natural-looking results.
RHA® fillers reduce the signs of aging without any need for surgery, incisions, or scalpels. Because of this, they are considered only minimally invasive and do not necessitate periods of frustrating and painful downtime. Injectables are a lower-cost and less drastic solution than cosmetic surgery.
The amount of time the results last varies from patient to patient. Often, these injectables last a year or longer. During this time, they are slowly and safely absorbed. Once the filler has been fully absorbed, patients can return for maintenance treatments.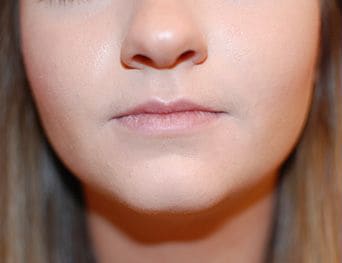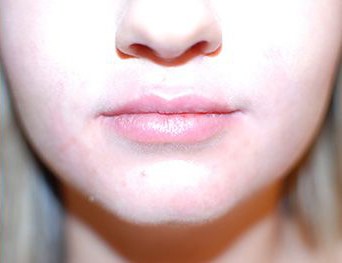 * Individual results may vary.
Photo Gallery
View before-and-after pictures of real patients of Dr. Elsa Raskin
Am I a suitable candidate for RHA® fillers?
The best candidates for RHA® dermal fillers are in good overall health, have realistic expectations, and are at least 22 years old.
Patients who have certain allergies or severe allergic reactions may not be good candidates for this treatment option. Additionally, patients with bleeding disorders or active skin infections are not ideal candidates for RHA® fillers.
Types of RHA® fillers
There are three types of RHA® injectable fillers available: RHA® 2, RHA® 3, and RHA® 4.
RHA® 2
RHA® 2 was designed to fill in dynamic facial wrinkles like horizontal forehead lines, vertical wrinkles between the brows, and crow's feet around the eyes. Previously, these types of lines could only be effectively treated with neuromodulators. RHA® 2 offers much longer-lasting results than neuromodulators offer.
RHA® 2 can also be used to smooth away smoker's lines around the lips and radial cheek lines. Additionally, it is an effective lip filler, adding definition and volume to thin lips.
RHA® 3
RHA® 3 is ideal for moderate to deep facial age lines like the nasolabial folds and smoker's lines. It can treat the sagging corners of the mouth, along with gaunt cheeks. Like RHA® 2, it can also be used for lip enhancement.
RHA® 3 is also an excellent option for liquid rhinoplasty procedures, which are used for non-surgical nasal reshaping.
RHA® 4
RHA® 4 is specialized to treat harsh facial folds and depressions. This filler is injected into deeper skin layers than the other fillers in the RHA® collection, making it ideal for severe wrinkles.
Midface wrinkles like the nasolabial folds, marionette lines, and parentheses lines can all be treated, as can hollow temples and cheeks. Additionally, injections of RHA® 4 can reshape and contour the jawline, creating a more appealing aesthetic.
"TRULY HAS AN EYE FOR PERFECTION AND STRIVES FOR IT WITH EACH PATIENT."
Your Consultation
Before you can be approved for any treatment, it will be necessary for you to attend a comprehensive consultation with Dr. Raskin. At this appointment, she will ask you for detailed information about your health, general wellbeing, and lifestyle. This will include any medications currently being taken and any past procedures.
Dr. Raskin will also perform an assessment of your face and skin. This will help us determine which RHA® filler will provide the best solution to achieve your goals. She will walk you through the details of the treatment process to ensure that you have a full understanding of the procedure.
I have known Dr Raskin for several years. I had the pleasure of seeing her about 15 years ago originally and subsequently referred a family member to her for several injectable appointments and a blepharoplasty. She created an amazing outcome and truly has an eye for perfection and strives for it with each patient. I reached out to her for a consultation for myself after many years of contemplation and about 4 surgical consultation with other surgeons in NYC and NJ. I was seen in the office within 1 week of my call and likely could have been seen even soon had my schedule permitted. The office staff was friendly and accommodating. I was greeted by Dr. Raskin with a warm and genuine friendly welcome. She took measurements and offered several options based off of desired results that I provided to her that were photos found online. As a professional in the surgical field, I can confidently say that my experience in the surgical center was extraordinary. I felt tended to as if I were the only patient having surgery that day. The nurses in the pre op and recovery room as well as OR staff and anesthesiologist were amazing. I walked out of the hospital about 2 hours after my surgery feeling great. Now, 2 month out of surgery, I will say that this is one of the best decisions I have made in my adult life and a majority of that statement is owed to the expertise, and artistry of Dr Raskin. I am thrilled with the result, the shape, symmetry and overall care that I have received and would recommend anyone to see her in consultation, she is a true gem. To top it off, Jackie who books the appointments and handles payments, is a doll – very accommodating, organized and nice.NZ, injectables
The Treatment Process
Injection of RHA® fillers is a quick and simple process. Filler injection typically only takes around fifteen to thirty minutes.
First, the treatment regions are cleansed. The injection sites are then marked as a guide. Next, the chosen RHA® filler is injected into the marked sites using an ultrafine needle. The amount of filler used will be based on the severity of the age lines. Because RHA® fillers contain lidocaine (a local anesthetic), the treatment areas are numbed to any pain or discomfort.
After the injections have been delivered, the areas may be massaged to ensure even coverage. An ice pack may be applied as well.
Post-Treatment Care
After your RHA® filler treatment session, you will not need any downtime or recovery time and can go right back to your daily schedule. If minor bruising and swelling are present, they will fade shortly. Application of a cold compress can aid in this process.
Patients should avoid exercise and sun exposure for 24 hours after the treatment. Application of makeup must also be avoided for a time.
If needed, patients can return for touch-up treatments two to four weeks after the treatment session.
Arrange Your Consultation
If you would like to reduce the signs of aging on your face, then RHA® fillers in Greenwich could be the solution you've been looking for. To find out more about the different options available to you, or to arrange an appointment to assess your candidacy, contact Dr. Raskin today at 203-861-6620.