Tummy Tuck Connecticut
WHAT IS A TUMMY TUCK?
A tummy tuck, also referred to as abdominoplasty, is a procedure that removes the excess fat and skin from the abdominal area that is caused by pregnancy, aging, significant fluctuations in weight, genetics, or a prior surgery. A tummy tuck will help dramatically reduce a bulging abdomen as well as restore and tighten abdominal wall muscles.
THE PROCEDURE
A tummy tuck typically takes about two to three hours to perform and requires an outpatient visit under general anesthesia. During the procedure, a horizontal incision is made from hipbone to hipbone and a second incision is made around the navel. The skin is then separated from the abdominal wall, the abdominal muscles are tightened and excess fat, tissue, and skin are removed.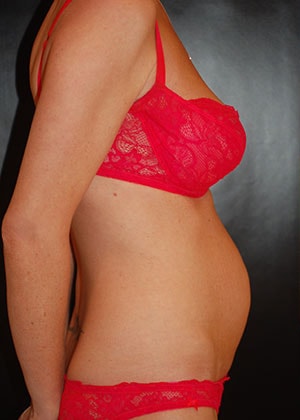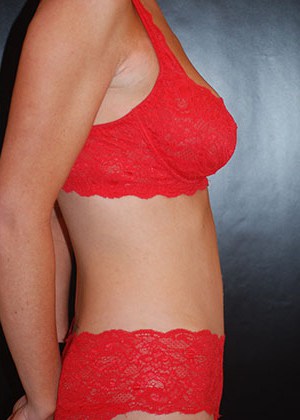 * Individual results may vary.
Photo Gallery
View before-and-after pictures of real patients of Dr. Elsa Raskin
POST-OP AND RECOVERY
After your tummy tuck procedure, small drainage tubes will need to be inserted into your abdomen for about two days in order to remove excess fluid. Patients are typically released from the hospital after a few days and stitches will be removed after about a week. Sutures will be removed after about two to three weeks. It typically takes several weeks for patients to feel normal after surgery and full recovery time is expected to take a minimum of four months. It's possible for the scars to darken during the first three to six months and they take about nine months to a year to fade, though they won't disappear completely.
RISKS OF ABDOMINOPLASTY
Potential complications after tummy tuck surgery include infection and blood clots. A second operation may be needed if your body isn't properly healing. These risks very rarely occur and the Elsa Raskin MD has performed several of these procedures with exceptional results.
"MY CORE IS STRONG AND READY TO SUPPORT ME FOR THE REST OF MY LIFE. THANK YOU DR. Raskin!"
From the moment I spoke to Eileen in Dr Raskin's office, I was at ease that I had found the right place to repair my abdominal area. I had twins 5 years ago, and even with diet and exercise, I could not get my abs to go back together. I was having back pain and constant discomfort around my middle section. My experience with Dr Raskin was incredible. She was professional and knowledgeable; working with me as an individual to find the best solution. The surgery and recovery went exactly as she had told me. She prepared me for everything and was in constant contact with me as I recovered. I could not have asked for a more pleasant experience. My results speak for themselves, but the most positive thing for me is the comfort this surgery has brought me. I no longer feel unsupported; my core is strong and ready to support me for the rest of my life. Thank you Dr Raskin! LM Tummy Tuck