Conveniently located for Fairfield County & Westchester patients
Why Consider Tummy Tuck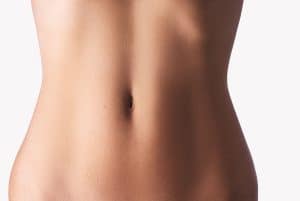 The abdomen is often regarded as a visual representation of a person's overall health. A slim, beautifully contoured abdomen could indicate that a person is in shape. However, for many people, the abdomen is a problem area that may protrude or appear round. While diet and exercise can help support weight loss, even the strictest lifestyle choices are not always effective in the pursuit of a flat tummy. This is because a lax abdomen is often the result of stretched abdominal muscles, which can occur during pregnancy or after significant weight loss. If this sounds familiar, you need a targeted solution that can improve the appearance of your abdomen. Board certified plastic surgeon Dr. Elsa Raskin helps her patients achieve their ultimate body goals with tummy tuck surgery.
Benefits of Tummy Tuck
Tummy tuck surgery, also referred to as abdominoplasty, involves the removal of excess fat and skin from the abdomen and tightening of lax muscles. Benefits include:
A flat, slimmed-down, attractive midsection
Reduction in the appearance of stretch marks on the abdomen
More attractive body contour
Boost in confident
The Tummy Tuck Procedure
During your consultation with Dr. Raskin, she will examine the skin on your abdomen, as well as the abdominal fat and underlying muscles to determine which tummy tuck technique would be most appropriate for you.
Traditional tummy tuck: This option appeals to patients that require significant correction. An incision is made near the bikini line, and another around the navel. Dr. Raskin then tightens the lax abdominal muscles and removes excess fat, tissue, and skin.
Mini tummy tuck: Mini tummy tuck procedures involve a shorter incision and are often performed on patients with less excess skin. The muscles below the navel are tightened and excess skin and fat in this area are also removed.
Tummy Tuck Recovery
Your incisions will be dressed following surgery, and you may be wrapped in a compression garment to reduce swelling and help support your midsection as you heal. Dr. Raskin will insert small drainage tubes into the abdomen to collect fluid. A few days after your procedure, you will be released from the hospital. A week after surgery, your stitches will be removed. Around week two or three, your sutures will be removed. Full recovery takes a minimum of four months, and although your scars won't disappear entirely, you can expect them to fade over the course of about nine months to a year.
Beautiful Tummy Tuck Results
Dr. Raskin goes the extra mile to understand your tummy tuck goals before surgery so that you are satisfied with your result. You may initially experience swelling; however, your new, slimmer profile should begin to reveal itself as the swelling diminishes. You may notice your midsection is firmer, flatter, and in better proportion to the rest of your body.
Why Choose Dr. Elsa Raskin for Your Tummy Tuck
Skilled plastic surgeon Dr. Elsa Raskin has earned a glowing reputation for the beautiful results she achieves with tummy tuck surgery. She has helped many patients look and feel their best in their bodies. For the past 10 years, Dr. Raskin has been named Top Doctor by Greenwich Magazine, which only highlights her dedication to her craft and her patients. Dr. Raskin is committed to providing excellent care and has a track record of success in her field.
If you are ready to transform your body, contact our office today to schedule an appointment.