Conveniently located for Fairfield County & Westchester patients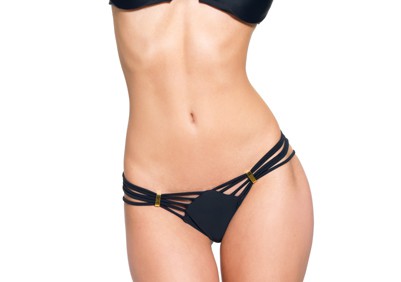 Jump To:
WHAT IS LIPOSUCTION?
Liposuction is a surgical procedure that improves the contours and overall shape of the body by removing unwanted fat deposits that are located between the skin and muscle on areas such as the hips, abdomen, buttocks, thighs, knees, upper arms, and chin.
Though it is not encouraged as a substitute for dieting and exercise, liposuction is occasionally the only way to remove fat deposits that aren't responding to typical weight-loss routines.
We offer several different liposuction procedures at Elsa Raskin MD, such as fluid injection liposuction, tumescent injection liposuction, and SmartLipo™.
Liposuction is often performed as a part of other procedures, like an arm lift or a mommy makeover.
TYPES OF LIPOSUCTION
FLUID INJECTION – This type of liposuction involves the injection of a liquid solution containing a local anesthetic (lidocaine), a drug that contracts blood vessels (epinephrine), and a saline solution into areas where the fat is going to be removed. The fluid facilitates fat removal, lessens pain and helps to lessen the bruising and blood loss that occurs during surgery.
TUMESCENT INJECTION – Similar to fluid injection liposuction, tumescent injection also involves injecting a fluid containing a local anesthetic and epinephrine into the targeted area. This type of injection requires less anesthesia than a normal fluid injection, but it also takes longer to perform. This procedure is recommended for those who are closer to a healthy weight and are seeking to remove specific areas of fat.
SMARTLIPO™ – This type of liposuction involves inserting a small tube into the targeted area and delivering energy in the form of a laser that ruptures fat cells so they can be drained out. It also causes the surrounding skin to shrink down. The recovery time is typically shorter than traditional liposuction as the laser causes the blood to coagulate, causing less bleeding, swelling, and bruising. The Smartlipo laser is best for areas that need tightening like the lower abdomen, inner thighs and neck.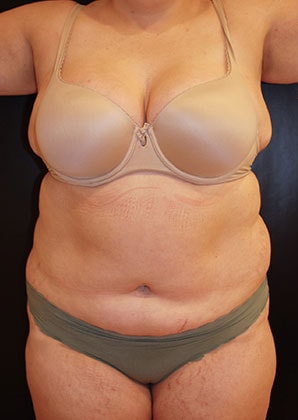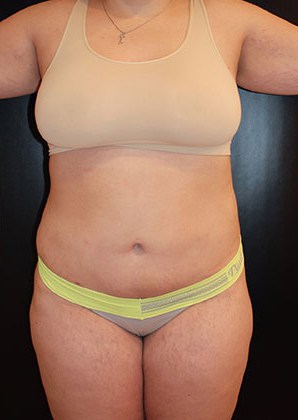 * Individual results may vary.
Photo Gallery
View before-and-after pictures of real patients of Dr. Elsa Raskin
Buffalo Hump Liposuction
A buffalo hump, also called a dorsocervical fat pad, is a section of excess fat that has built up on the upper back between the shoulders and near the neck. Because of its location, it can sometimes impair head and neck movement, and it can even affect sleep. A buffalo hump can also cause embarrassment and self-consciousness in social situations.
Buffalo humps can form as a result of a number of factors, including certain medications, long-term steroid use, Cushing's syndrome, osteoporosis, genetics, and obesity. Many of these factors can and should be addressed before liposuction is necessary. If non-surgical options are not helping, buffalo hump liposuction is often an excellent solution.
Buffalo hump liposuction is a fat-reduction treatment used to remove this projection of excess fat. It involves creation of an incision, followed by insertion of a cannula. Once the fat is loosened, medical suction is administered to take out the fat. This reduces the volume of the area, smoothing out the hump.
Your Consultation
Before the date of your liposuction procedure, Dr. Raskin will conduct a thorough physical examination to determine the right type of liposuction for you. During this consultation, the two of you will discuss your complete medical history, including any existing medical conditions and current medications/supplements.
Typically, surgeons advise patients to stop taking anti-inflammatory medications and aspirin before surgery in order to reduce complication risks. Smoking and drinking should also be stopped at least two weeks ahead of the treatment.
POST-OP AND RECOVERY
After receiving liposuction surgery, you will be required to wear an elastic post-surgical garment to help control swelling and you will likely experience bleeding, temporary numbness, burning, and pain. Some patients may also be required to have a small tube placed under their skin to aid in draining out excess fluids.
The recovery time for most patients ranges from one to two weeks and most bruising fade away after three weeks, though it could take longer. The Elsa Raskin MD will be there to monitor and aid you throughout the process to ensure you have a safe and speedy recovery.
What is the Cost of Liposuction?
Though pricing can vary significantly based on the scope and individual needs of the patient, the typical price range is $6,000-$8,000.
"THERE IS NO DOCTOR I TRUST MORE THAN DR. RASKIN. I COULD WRITE ENDLESSLY ABOUT HER ABILITIES AND BEDSIDE MANNER, BUT, I SAY THIS, GO SEE FOR YOURSELF. YOU WILL FEEL AT EASE AND KNOW YOU HAVE FOUND THE RIGHT PERSON THE MOMENT YOU MEET HER."
This past year has been one of the most difficult in my life and Dr. Raskin is the person who turned it all around for me. I faced a 60 pound weight gain due to other medical issues and I could not see a light at the end of the tunnel no matter how hard I tried. The moment I met Dr. Raskin,…
I knew that I had been saved. One of the first things she said to me was "this will be one of my biggest surgeries but I believe in you and I am on your team". There are always negative views when it comes to plastic surgery but, Dr. Raskin never made me feel like I couldn't do it and truly believed this would kick start me and my new healthy lifestyle. The work she did speaks for itself, I couldn't be happier or feel more like myself again if it weren't for the hours of hard work she put in during the surgery. What speaks to me the most with my experience with Dr. Raskin was the moment right before I was put under. I have had traumatic experiences with other operations in my life so regardless of my age, when I am brought into the operating room, I am brought to tears out of anxiety and irrational fear. I have had many surgeries with many different surgeons but Dr. Raskin did something that none of them had ever done. She saw the stress and tears in my eyes and instead of continuing to get ready for the procedure as most surgeons do; she took off her gloves, looked me right in the eyes and held my hand. She spoke softly and was entirely focused on me and how to calm the situation down. While this gesture seems so small, it is something that I never thought I would experience from a surgeon. Dr. Raskin invests herself in her patients. She supports them beyond the operating room. She wants you to succeed and will do anything to help. She has high expectations for herself as shown in her amazing work but, she has high expectations for her patients as well. She is the kind of doctor that a patient wants to come back and show how well they have done. My latest check-up ended with me tearing up because of how grateful I was to have met Dr. Raskin and to have her make such a difference in my life, not just my appearance. There is no doctor I trust more than Dr. Raskin . I could write endlessly about her abilities and bedside manner but, I say this, go see for yourself. You will feel at ease and know you have found the right person the moment you meet her. B.O. Liposuction
SAFETY AND RISKS
Dr. Elsa Raskin has a highly trained staff, years of experience, and an excellent record of success. Though complications stemming from liposuction are rare, there are risks involved. The severity of risks varies depending on the number of areas that are treated and a number of fat cells that are removed.
Potential risks include infection, clotting, fluid loss, friction burns, slow recovery time, perforation injury, and an adverse reaction to drugs.
Schedule
For more information on how Dr. Raskin can help you obtain optimal results from your liposuction, call or contact us today!