Conveniently located for Fairfield County & Westchester patients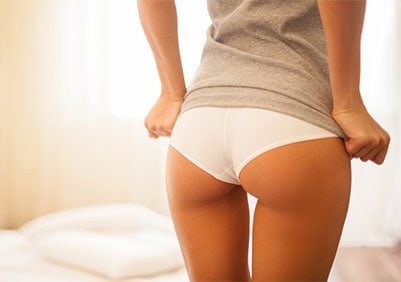 Have you noticed some unwanted sagging in your behind? If so, know that this is a common issue among many people. A butt lift is a cosmetic procedure that lifts and enhances the overall appearance of the buttocks. While a butt lift is not intended to add volume, it is often done in conjunction with a butt augmentation. Individuals who undergo this procedure are focusing on removing excess skin and fat while also repositioning existing skin order to create a better shape.
Your Initial Consultation
Before the date of your surgical session, Dr. Raskin will need to sit down with you and discuss your expectations for the Brazilian butt lift, or BBL. You will need to inform Dr. Raskin about your complete medical history, as well as any medications that you are taking. If you are a smoker, you will have to tell her this information as well.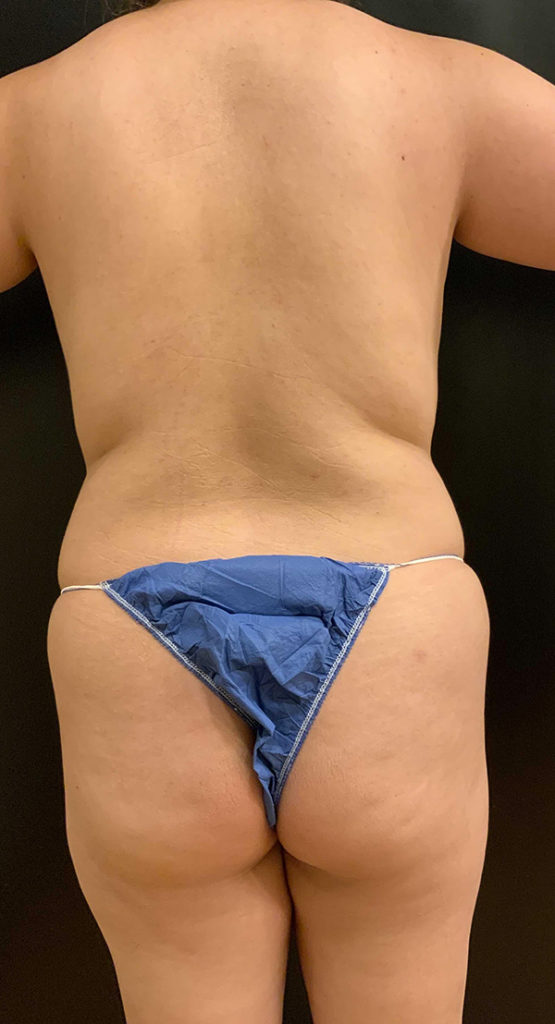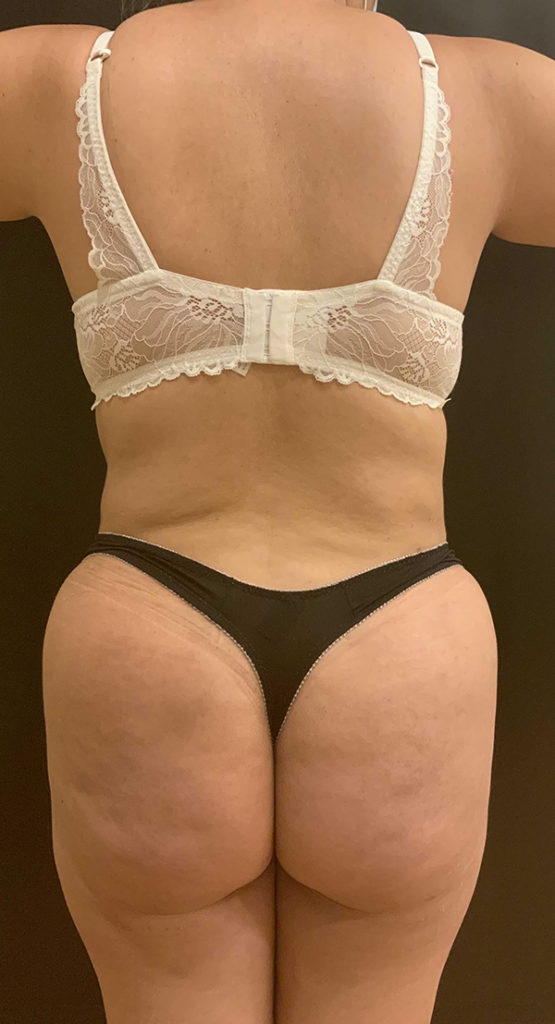 * Individual results may vary.
Photo Gallery
View before-and-after pictures of real patients of Dr. Elsa Raskin
What the Procedure Entails
A Brazilian butt lift surgery is performed under general anesthesia. In case a minimal volume of fat is all that is needed for transfer, a local anesthesia may instead be administered, along with sedation.
Once you are under the anesthetic, Dr. Raskin will use liposuction to remove excess stubborn fat from other body areas. Fat may be removed from the hips, abdomen, or thigh region. Liposuction involves making an incision and then using a very narrow tube called a cannula to carefully remove fat via medical suction.
The removed fat is then cleaned and purified so that only healthy fat remains. This process involves removal of unnecessary materials, including dead and damaged fat cells.
The process is completed when Dr. Raskin injects the fat into marked areas on your behind. Her goal is to create a fuller and more rounded behind. The injections are made at various levels in the tissues to achieve even and natural-looking results.
Recovery After a BBL
Brazilian butt lift surgery causes a degree of swelling and bruising in the donor and grafting areas, but this reduces shortly. Wearing a compression garment may be necessary to control bruising and swelling.
You may not be able to sit on your backside for a while after your Brazilian butt lift procedure. You will need to sleep on your side or stomach during recovery.
You will see results immediately, and once swelling and bruising have ameliorated, final results can be seen. Results can be permanent, so long as you take care to maintain your weight.
A Brazilian butt lift creates very authentic results in terms of both look and feel, since it's your own body fat being grafted. This procedure creates more softness and roundness.
"MY EXPERIENCE WAS EXTRAORDINARY"
"I was seen in the office within 1 week of my call and likely could have been seen even soon had my schedule permitted. The office staff was friendly and accommodating. I was greeted by Dr. Elsa Raskin with a warm and genuinely friendly welcome. She took measurements and offered several options based off of desired results that I provided to her that were photos found online. As a professional in the surgical field, I can confidently say that my experience in the surgical center was extraordinary. I felt tended to as if I were the only patient having surgery that day. The nurses in the pre-op and recovery room, as well as OR staff and anesthesiologist, were amazing."
How Much Does a Brazilian Butt Lift Cost?
The cost of your Brazilian butt lift procedure is determined using several factors. Total price is impacted by the amount of fatty tissue transferred, the total time required to perform the entire procedure, the type of anesthesia used, and many other factors. The cost of a Brazilian butt lift is typically $6,000-$8,000.
Get Started Today
To give yourself the curvy rear end you've always wanted, contact the office of Dr. Elsa Raskin for a consultation regarding the Brazilian butt lift in Greenwich. Dr. Raskin has years of experience delivering high-quality results.