Smart Lipo™ Vs. Traditional Liposuction
Published on June 28, 2018 by Elsa Raskin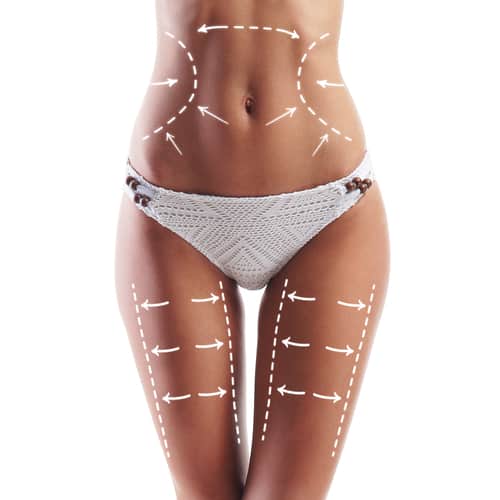 While diet and exercise are key ingredients to losing weight and helping us achieve a slimmer shape, most of us find that we have specific areas of our body which are more difficult to tone up – regardless of how hard we try to improve them. These are localized zones of stubborn fatty deposits. In most cases, these can only be removed through cosmetic surgery.
Liposuction is a popular cosmetic surgery procedure in the U.S. and more than 350,000 treatments are performed each year with the aim of reducing these stubborn areas of fat and enabling us to experience a smoother, more toned silhouette.
Currently, liposuction is the only cosmetic surgery that can target these areas. However, the techniques and technology used in liposuction have continued to evolve, and one of the types of liposuction to emerge is known as Smart Lipo™. Let's take a look at both conventional liposuction and Smart Lipo™ so that we can establish the differences between them, and you can make an informed decision on which is most suitable for your individual circumstances.
Traditional Liposuction
Conventional lipo has been used with great success for many years. The procedure itself involves inserting a metal cannula under the skin, where it is thrust back and forth to break up the pouches of fat. The cannula is attached to a gentle vacuum which then sucks up the broken fat deposits and draws them out of your body, into a sealed container. In this version of liposuction, the adipose tissue is physically extracted from the body.
The procedure is fairly straightforward and performed using a tumescent anesthetic containing lidocaine. This ensures that you will not be in any pain during the process, although it is normal to experience discomfort and bruising/swelling after your surgery. Some patients may opt for IV sedation, sometimes referred to as twilight anesthesia, to feel more comfortable and less anxious during the treatment.
Liposuction is typically performed on the areas of the body which are notorious for fatty deposits, including the abdomen, hips, thighs and buttocks. It can also be performed on the upper arms and even chin.
What is Smart Lipo?
Smart Lipo™ is an innovative procedure that was developed to address the issues of excess, tenacious body fat and loose skin. Established with laser technology, Smart Lipo™ uses a single laser fiber that heats and then melts the stubborn pockets of fat. This is inserted into the body through a small cannula placed under the skin. The melted fat is then reabsorbed into the body, meaning that there is no need for it to be vacuumed out.
Like traditional liposuction, Smart Lipo™ is anesthetized with a tumescent solution containing lidocaine with IV sedation options.
How does Smart Lipo™ differ from traditional liposuction?
There are several key differences between Smart Lipo™ and conventional liposuction cosmetic surgery. These are:
Technique Used
Although both procedures require a cannula to be inserted into the body, Smart Lipo™ does not involve any suction, and there is no need to manually manipulate the cannula to forcibly break up the fat. This typically causes less post-operative discomfort and less bruising.
Skin Tightening Advantage
Traditional lipo has absolutely no effect on the appearance of the skin, while the use of heat in Smart Lipo™ provides the added advantage of creating a tightening effect. This can be particularly beneficial for older patients who may already be experiencing age-related loss of skin elasticity.
Recovery Process
When you choose conventional liposuction, you will be required to wear compression garments for the durations of the healing process, which is typically around 6 weeks after your surgery. However, most patients who opt for Smart Lipo™ benefit from a significantly shorter recovery period, and usually only need to wear compression garments for around a week.
Smart Lipo™ Vs. CoolSculpting
CoolSculpting is another popular form of minimally invasive liposuction. While Smart Lipo works by melting away the fat cells, CoolSculpting, also known as cryolipolysis, uses a device that freezes the fat cells, then once the fat cells are damaged, they are gradually broken down and excreted from the body through the liver.
CoolScupting has proven to be substantially less effective than Smart Lipo and other form of liposuction. Results from CoolSculpting tend to be unpredictable, while only removing a minimal amount of fat. The average CoolSculpting treatment only helps patients lose a few ounces of fat, while the average Smart Lipo treatment removes around 6 pounds of fat from the treatment area.
CoolSculpting also does not treat sagging skin after fat removal. In some cases, it can even make the skin appear saggier. Not to mention, the results from CoolSculpting are not seen for about 3-6 months after the treatment, and most patients require a second round of treatments. Smart Lipo, on the other hand, treats the fat cells at the source, so patients can see results immediately.
If you still aren't sure which type of liposuction is right for you, our experienced and knowledgeable cosmetic team at Elsa Raskin, MD would be delighted to discuss both options with you and make a recommendation. To schedule your appointment, please do not hesitate to contact our office today at 203-861-6620.