Tips for Recovering from Liposuction Surgery
Published on January 28, 2019 by Elsa Raskin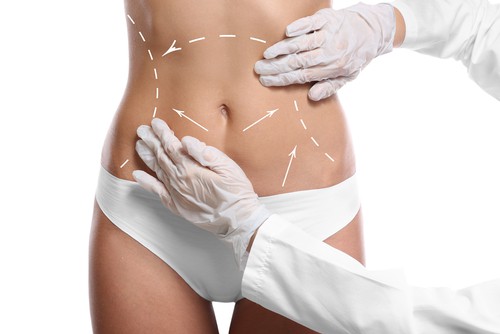 Liposuction is a popular form of cosmetic surgery that makes it possible to tone up areas of the body where stubborn fat accumulates and refuses to shift despite diet and exercise. The process involves removing the pockets of fat directly from inside your body by breaking them down and suctioning them out. Liposuction can be performed on virtually any area of your body, but the most popular locations to have liposuction include the abdomen, hips, thighs, buttocks, "love handles", and upper arms.
Many people make the mistake of thinking that they do not need to allow themselves recovery time after liposuction. This is partly due to the technique used to perform the procedure, which is minimally invasive and causes a few, small incisions rather than a large wound.
Nevertheless, it is still important that you give yourself enough time to heal and recover from your surgery. Failure to do so will put you at increased risk of developing complications and could even affect the overall result of your procedure.
Recovery times can vary between patients
Firstly, you must remember that every patient is unique, and this means each individual experience of the recovery process can vary widely. Pain tolerance levels are different between patients, as well as recovery response.
While one patient may find that they are in significant discomfort for several days after surgery, another may only feel slightly uncomfortable. If you have a history of smoking or still smoke daily, your recovery time may be considerably longer since smoking can inhibit the healing process. Our surgeon will be able to give you an estimated timeline of what recovery will look like after your liposuction procedure.
We understand the importance of getting back on your feet as soon as possible after cosmetic surgery. With this in mind, here are our top tips for a smooth, swift, and straightforward recovery from your liposuction procedure.
Follow the instructions given to you by our surgeon
At Elsa Raskin, MD, we are invested in achieving positive results from your surgery, and to help you see optimal results, we will provide you with specific instructions for your recovery period. This will refer to everything from caring for your dressings to what you should eat and drink, as well as when you can return to work. Recovery guidelines are not suggestions, and they should be followed directly if you wish to make a rapid recovery and see superb results from your surgery. Follow all instructions as directed and if there is anything you aren't sure about, speak to your post-surgery care team.
Take your medications as directed
You may be prescribed painkillers after your surgery and these will help reduce any discomfort that you might feel. Some patients try and avoid taking painkillers if they can, but this can lead to unnecessary suffering which has been shown to slow the healing process. Our surgeon will also talk to you about medications which should be avoided while you are healing, which will include anti-inflammatories and blood thinners. You should also avoid caffeine, alcohol, and smoking during your recovery.
Wear your compression garments
Compression garments are an essential part of your recovery wardrobe. This is because they can help manage swelling, reduce pain, and protect the incision sites from infection. Make sure you wear them for the time recommended by our surgeon.
Eat right and stay hydrated
It can be tempting to enjoy your favorite foods while you are recovering from surgery but eating healthily can ensure that your body gets the nutrition it needs to heal quickly. You can also avoid putting on weight while your ability to exercise is limited. Don't forget to stay hydrated by drinking plenty of water too!
Getting back on your feet
While you may not feel like it, you should move around somewhat within 24 hours of your surgery. This will help to lower your risk of developing deep vein thrombosis and will kick-start your recovery process. Light exercise has been shown to be beneficial in speeding up healing, so once our surgeon gives you the all-clear, some gentle, short walks will improve your recovery.
If you would like more advice on recovering from liposuction, our friendly and experienced team would be delighted to help. Contact us today to book a consultation with our experienced Board-Certified Plastic Surgeon, Dr. Raskin at 203-861-6620.