What is the Difference Between Liposuction and a Tummy Tuck?
Published on December 31, 2018 by Elsa Raskin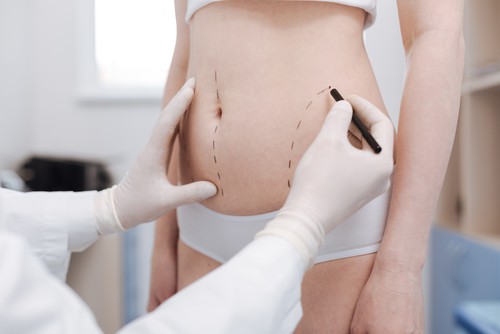 Liposuction and tummy tuck, also known as abdominoplasty, are two separate cosmetic surgery procedures that can target the appearance of the patient's midriff. While both surgeries are completely different in terms of recovery time and the actual procedure required, they both aim to make the stomach look flatter, tighter, and smaller. Oftentimes, patients might opt to supplement their tummy tuck with liposuction for enhanced results.
Am I a Candidate For a Tummy Tuck or Liposuction?
Liposuction and tummy tuck treatments attract patients for similar cosmetic reasons. However, there are some important differences patients should know to make informed decisions.
Liposuction
Liposuction is a good option for patients trying to remove small problem areas of fat. Liposuction is typically performed on the hips, thighs, buttocks, or stomach area. It is not a weight loss procedure and not recommended for obese patients. Instead, liposuction should be performed to remove fat deposits, bulges, and improve body contouring.
Tummy Tuck
Tummy tuck not only removes excess fat from the abdomen, but it also helps remove excess skin. Pregnancy and fluctuating weight can weaken the abdominal muscles and cause the skin around the stomach to stretch out and become saggy.
During pregnancy, the rectus abdominis muscle often becomes separated and damaged. Tummy tuck surgery restores this muscle by joining it back together. Tummy tuck surgery also improves the appearance of the midsection, giving it a flat and more contoured appearance.
The following conditions might not make good candidates for tummy tuck surgery:
– your BMI is over 30
– you plan on becoming pregnant
– you are in the process of trying to lose weight
– you have an ongoing heart condition
What Happens During Tummy Tuck and Liposuction?
Liposuction and tummy tuck surgeries should be performed by an experienced, certified plastic surgeon. Both surgeries require anesthesia and incisions.
About Liposuction & Recovery
During liposuction, patients often opt for IV sedation and local anesthetic. Once the area is anesthetized, a small incision is made near the area of fat deposits, then a tube is inserted under the skin to dislodge the fat cells and vacuum away the loose fat.
Recovering from liposuction is a fairly straightforward process. Most patients will experience some swelling and draining near the incision site and will need to rest for at least 48 hours after surgery.
About Tummy Tuck & Recovery
During a tummy tuck procedure, patients will be sedated with general anesthesia. Once asleep, an incision is made in the skin over the abdominal wall. Once the muscles are uncovered, the abdominal wall is sewn together. Then, the skin is pulled taut over the abdomen, excess skin is removed, and then the incision is closed with sutures.
Recovering from tummy tuck surgery will be more involved than liposuction. After surgery, patients will need to have their surgical dressing replaced several times. Patients will also need to ensure they wear their compression garment or "belly binder" to reduce swelling.
After the first day, patients will be able to walk around with some assistance to help prevent blood clots. Patients will also be instructed to take pain relievers and antibiotics to prevent infection and discomfort.
The initial recovery of a tummy tuck takes around six weeks, and patients will need to schedule follow-up appointments with our plastic surgeon. These appointments are important for checking the healing process and ensuring no infections are present. For about six weeks after surgery, patients should avoid bending too far forward, backward, or any movement that puts stress on the incisions. We will advise patients on when they are able to return to exercise and physical activity.
Benefits of Including Liposuction with a Tummy Tuck
The primary benefit of having tummy tuck surgery and liposuction at the same time is that we will be able to address areas of fat that have proven resistant to exercise, while also removing loose skin and repairing the abdominal muscle. This helps consolidate two separate procedures into one scheduled surgery and recovery time.
An added benefit of having the treatments combined is that it often reduces the need for post-surgical drains during recovery which improved the recovery time of regular tummy tuck surgery.
Furthermore, when patients opt for a tummy tuck and liposuction at the same time, they are able to see more effective results with improved body contouring. For a lot of patients, excess fat and sagging skin exist coincide with one another, so treating common conditions in one surgery is the most effective and efficient way to improve your figure.
Choosing the Right Plastic Surgeon for Liposuction or Tummy Tuck
Patients considering body contouring treatments, like liposuction or tummy tuck surgery, should use caution when choosing a plastic surgeon. It is important to ensure you choose a board-certified plastic surgeon with experience performing these surgeries. One way to gauge a plastic surgeon's ability is by looking at before and after photos to make sure they are providing effective, natural-looking results.
Dr. Raskin has helped countless patients in the Greenwich area and beyond achieve their body image goals through liposuction and tummy tuck treatments. Call us today to learn more at 203-861-6620.