Breast Implants Connecticut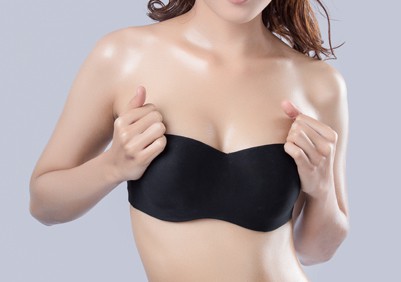 Many women choose to improve the symmetry, proportion, and size of their bust with breast implants at our Greenwich office. Breast augmentation can enhance your cup size, compensate for lost volume due to pregnancy, and make your breasts more symmetrical. Dr. Elsa Raskin is dedicated to patient safety and comfort and providing exceptional, natural-looking results. She regularly performs breast surgery and was named a Top Doctor by Greenwich Magazine for her work. We offer several implant options to meet your cosmetic and medical needs. To learn more about breast implants or schedule a consultation with Dr. Raskin, contact our office today.
Types of Implants
Dr. Raskin offers silicone and saline implants, both of which feature a hard silicone shell. Silicone implants are pre-filled capsules of silicone gel, which many women feel provides the most natural look and texture. This sticky, synthetic material mimics the density of natural fat, making it difficult to tell the implant apart from the existing breast tissue.
Saline implants use sterile saltwater to enhance breast size. Unlike silicone implants, saline implants are filled during the procedure, often requiring a smaller incision. This material is more likely to cause skin rippling than silicone implants but is typically a more economical option. In addition, if the implant ruptures, your body will simply absorb and expel the saline, whereas the contents of a ruptured silicone implant remain in the body.
Alternative Options
A third option, fat injection, uses fat cells removed from another part of your body during liposuction – such as your midsection or thighs. This procedure is often referred to as natural breast augmentation. The fat transfer usually cannot add more than one cup size to breasts, but this procedure makes sense for patients who want a realistic look and have unwanted fat in other parts of the body. Fat injections can also be combined with other implant materials to give breasts a more natural shape.
Considerations
Each implant material has distinct benefits and disadvantages. For most patients, Dr. Raskin prefers silicone to saline. Silicone implants usually do not cause the skin to ripple or wrinkle and they look very natural. This kind of implant can also be placed over the chest muscle, while saline implants often need to be placed under the muscle to reduce the risk of an unnatural appearance. Silicone is also lighter than saline, so implants will usually sag less over time. Dr. Raskin also highly recommends fat transfer for patients with unwanted weight throughout the rest of their bodies.
Most healthy women who want to improve the size, symmetry and proportion of their breasts are good candidates for breast implants. You must be at least 18 years old to receive saline implants and at least 22 years old to receive silicone implants.
Learn More About Breast Implants
Each woman's body is different, so Dr. Raskin will help you determine which type of implant works best for you during an evaluation. To schedule a consultation with Dr. Raskin or learn more about breast augmentation, contact our office today.