Mini Facelift Connecticut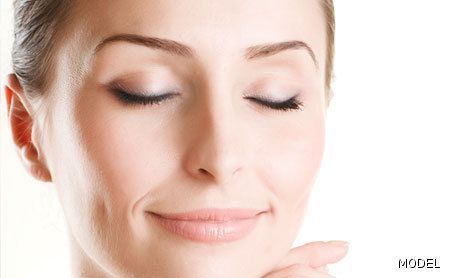 Aging is a natural and unavoidable part of life. Nevertheless, it can be incredibly frustrating to look in the mirror and see a face that appears much older than you really feel. Unfortunately, it is our faces that are our biggest betrayers, when it comes to the aging process. This is largely because it is our faces that are exposed to external elements the most – such as pollution and harmful rays from the sun. The skin on our face is also often more sensitive, meaning that it can be dramatically affected by factors that cause aging.
Whether you have the beginning of a few laughter lines, or you are already experiencing the effects of heavy brows or a sagging jaw, you may be considering what you can do to combat signs of aging. While there are countless products available that claim to be able to do just that, many people find that their success is limited. For patients who are starting to see moderate signs of facial aging, Dr. Raskin offers a popular cosmetic surgery known as a mini facelift.
What is a mini facelift?
A mini facelift is a type of cosmetic surgery that focuses on improving the visible signs of facial aging. However, unlike a traditional facelift which also includes cosmetic surgery to improve the appearance of the neck, a mini facelift purely addresses problems with the lower half of the face – such as sagging jowls and lines from the nose to lips and/or lips to the chin. Smoothening and tightening the skin in this area will give you a more defined jaw, sculpted cheeks and fewer lines and wrinkles.
Benefits of a mini facelift
Just as with other facelift procedures, a mini facelift is designed to make improvements to the appearance of your face. By tightening the skin, you can not only benefit from reduced lines and wrinkles, but you can also add more definition to your face. Most patients find that they look refreshed, rejuvenated, and significantly younger than they did before.
Feeling happier about your appearance can also have a positive impact on your confidence and self-esteem, and many patients report that this can filter through into both their professional and personal lives.
How is a mini facelift performed?
The mini facelift procedure is relatively straightforward and performed using a general anesthetic, meaning that you will not feel any discomfort during your surgery. In most scenarios, a mini facelift procedure requires two incisions, one on each side of the face, following the natural crease in front of the ears that runs from the bottom of the ear lobe to the hair line. The skin is then pulled tighter across the face, where it will adhere to the contours, smoothening out any sagging or wrinkling. The skin is then secured using sutures.​​​​​​​
How long will it take me to recover from my mini facelift?
Mini facelifts may be performed as an outpatient procedure, meaning that you can go home the same day, though you will need someone to drive you and stay with you for at least 24 hours.
It is normal to experience some swelling, bruising and discomfort in the days after your surgery, and you will be prescribed medication to help alleviate these symptoms. You can also expect to be asked to attend a post-operative check-up around 48 hours after your procedure.
Most patients can return to work and most of their usual day-to-day activities within a week of their mini facelift. However, the bruising and swelling can last for several weeks, and some patients prefer to wait until these have subsided.
Am I a suitable candidate for a mini facelift?
If you are considering a mini facelift to help you achieve a fresher, younger appearance, you will need to attend a comprehensive consultation appointment so that Dr. Raskin can assess whether you may be a good candidate for the procedure.
To schedule your consultation appointment and start the journey to a vibrant, more youthful and more confident version of yourself, please call our Greenwich office today at 203-861-6620.