Benefits of a Mini Breast Augmentation
Published on December 20, 2017 by Elsa Raskin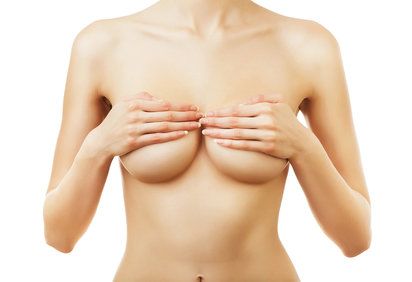 If you are unhappy with the shape, size or general appearance of your breasts, then you are certainly not alone. With studies suggesting that as many as 75% of women feel self-conscious about the appearance of their breasts. Being unhappy with our breasts can have a serious effect on our confidence and self-esteem. Many people who feel this way may avoid clothes, activities and situations that draw attention to their breasts, such as only wearing high-neck tops, or refusing to go swimming. Our personal relationships may also become negatively affected.
Breast augmentation surgery has been used to make physical improvements to ladies' breasts for many years, and it is most well known for dramatically increasing cup size and giving breasts a fuller appearance.
However, not all women necessarily want to make radical changes to the size of their breasts, and instead simply want to create a silhouette that is only subtly fuller, but much perkier and more youthful. In these instances, a mini breast augmentation may be a better option for you that a conventional 'boob job'. Elsa Raskin, MD offers mini breast augmentation surgery for patients in Greenwich, CT wanting to improve the appearance of their figure.
What happens in a mini breast augmentation?
The procedure for a mini breast augmentation is identical to that of a regular breast enlargement. In a regular boob job, if you have opted for silicone implants, you will need a reasonably big incision for them to be inserted. However, in a mini breast augmentation, because smaller implants are used, smaller incisions are also used. If you have chosen saline implants, these will be filled to your desired size after they have been inserted.
What are the benefits of choosing a mini breast augmentation?
There are many benefits to choosing mini breast augmentation surgery, which are helping to make it one of the most popular and commonly requested cosmetic surgery procedures today. These include:
A subtle improvement
Many people associate breast augmentation surgery with overly large implants, which can look disproportionate to the size and shape of the patient's body. However, a mini breast augmentation uses smaller implants, which make them ideal for women who are seeking slightly fuller breasts without attracting unwanted or negative attention.
Better for physically active lifestyles
Mini breast augmentations are particularly popular among ladies who have physically active lifestyles. The main reason for this lies in the fact that significantly larger breasts can be intrusive and inconvenient during exercise and other similar physical pursuits. Smaller, perkier breasts are much more manageable for busy, active women.
Natural appearance
Many women who choose mini breast augmentation surgery find that the change in their appearance is so subtle, that many people don't even notice. However, this minor outward change can have a major inward one, with the vast majority of patients reaping the benefit of increased confidence and self-esteem.
Minimal scarring
The smaller the incision used in your breast augmentation surgery, the less scarring you are likely to experience.
Lower risk of complications
A smaller incision means a smaller open wound. This reduces the likelihood of any complications either during or after your surgery, and should give you a smoother and faster recovery.
Am I a candidate for a mini breast augmentation?
If you are interested in mini breast augmentation surgery, you will first need to attend a consultation appointment with your chosen surgeon. It is during this meeting that your doctor will assess your general health and wellbeing, as well as performing a physical examination of your natural breasts. You will also have a discussion about your reasons for choosing mini breast augmentation surgery, and your goals and expectations for the procedure. Using all of this information, your surgeon will then be able to decide if you are a good candidate for the procedure.
If you would like to subtly enhance the appearance of your breasts and regain your confidence in your appearance, schedule a consultation with Dr. Elsa Raskin today to learn more about mini breast augmentations. Call 203-861-6620.